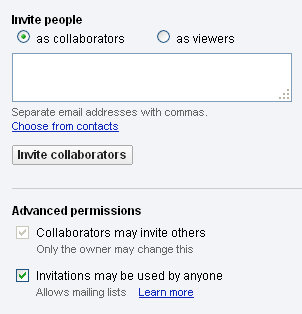 Moving forward at our community college with our pilot of the Google Apps for Education as an ePortfolio has brought up concerns of privacy and intellectual property among our faculty. A general uneasiness with the internet and privacy stems from a perception of the ePortfolio as a public showcase. While indeed Google Sites, part of the Google Apps suite, can be used as a public showcase of artifacts and reflections, it is important to emphasize that all aspects of a Google Apps ePortfolio is by default private until a user decides to share. Even then, there are options to designate viewers, collaborators, and finally to publish on the internet.  These options  can apply to every artifact, be it document, video, or even site.  It is essential that faculty understand these sharing and publishing options to put concerns of a student exposure on the internet at ease.

The company policies of Google also shed light on faculty concerns about confidentiality and intellectual privacy.  As can be seen from the agreement below, the customer owns all intellectual property rights in customer data.  Similarly, all confidential information is treated as such except for when the law requires disclosure. 

Confidential Information.

 



6.1

Obligations.

 Each party will: (a) protect the other party's Confidential Information with the same standard of care it uses to protect its own Confidential Information; and (b) not disclose the Confidential Information, except to affiliates, employees and agents who need to know it and who have agreed in writing to keep it confidential. Each party (and any affiliates, employees and agents to whom it has disclosed Confidential Information) may use Confidential Information only to exercise rights and fulfill obligations under this Agreement, while using reasonable care to protect it. Each party is responsible for any actions of its affiliates, employees and agents in violation of this Section.

6.2

Exceptions.

 Confidential Information does not include information that: (a) the recipient of the Confidential Information already knew; (b) becomes public through no fault of the recipient; (c) was independently developed by the recipient; or (d) was rightfully given to the recipient by another party.

6.3

Required Disclosure.

 Each party may disclose the other party's Confidential Information when required by law but only after it, if legally permissible: (a) uses commercially reasonable efforts to notify the other party; and (b) gives the other party the chance to challenge the disclosure.

6.4

The Admin Tool and Third Party Requests. 





a.

Admin Tool.

 Google will provide the Admin Tool only as a part of providing the Service. Customer misuse of the Admin Tool is considered a material breach of the Agreement.

b.

Third Party Requests.

 Customer is responsible for responding to Third Party Requests. Google will, unless it is prohibited by law or by the terms of the Third Party Request: (a) promptly notify Customer of its receipt of a Third Party Request in a manner permitted by law; (b) comply with Customer's reasonable requests regarding its efforts to oppose a Third Party Request; and (c) provide Customer with the information or tools required for Customer to respond to the Third Party Request. Customer will first use the Admin Tool to access the required information, and will contact Google only if it is insufficient for Customer's needs.

Intellectual Property Rights; Brand Features

. 



7.1

Intellectual Property Rights.

 Except as expressly set forth herein, this Agreement does not grant either party any rights, implied or otherwise, to the other's content or any of the other's intellectual property. As between the parties, Customer owns all Intellectual Property Rights in Customer Data, and Google owns all Intellectual Property Rights in the Services.

7.2

Display of Brand Features.

 Google may display only those Customer Brand Features authorized by Customer, and only within designated areas of the Service Pages. Customer may specify the nature of this use using the Admin Console. Google may also display Google Brand Features on the Service Pages to indicate that the Services are provided by Google. If Customer wants to display Google Brand Features in connection with the Services, Customer will comply with the Trademark Guidelines.

7.3

Brand Features Limitation.

 Each party may use the other party's Brand Features only as permitted in this Agreement. Any use of a party's brand features will inure to the benefit of the party holding intellectual property rights to those Brand Features. A party may revoke the other party's right to use its Brand Features pursuant to this Agreement with written notice to the other and a reasonable period to stop the use.